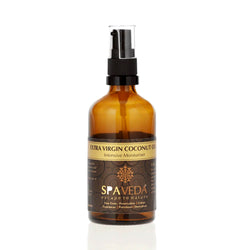 Spaveda Plantscriptions
Extra Virgin Coconut Oil
Extra Virgin coconut oil is a  versatile oil that can be used to condition both the skin and hair. It makes the skin smooth and even textured and is an ideal moisturiser. Coconut oil makes a very effective conditioning treatment when applied to the hair before washing. Soothes dry and sensitive scalp adding lustre to damaged hair. As a mask on your hair, the lauric acid, a fatty acid that coconut oil has penetrates deeply in the hair shaft and repairs damaged hair. The antifungal and antibacterial properties make it ideal for baby massages. 
Benefits  
Cold pressed
100% pure & natural
Softens cuticles
Quick absorption
Conditions Hair
Usage Tips & Tricks 
Can be used as a natural cleanser to remove stubborn and waterproof makeup like eyeshadow, eyeliner, foundation.
When mixed with Bath Salt and sugar it can be used as a very effective hand and  foot scrub.
Add a few drops of Eucalyptus and lemongrass essential oils and use as a natural insect repellent.
Add 5 drops of Rosemary, essential oil in 1 spoon of coconut oil to treat itchy and flaky scalp
Massage gently to prevent diaper rashes.
Apply a few drops mixed with geranium essential oil on your lips and use as a natural lip balm
Men can use it  as a moisturiser mixed with a few drops of lavender oil after shaving.
Ingredients: 100% natural cold pressed  Extra Virgin Coconut oil.
Storage: To preserve the quality and integrity of the oil, store the bottle in a cool dark place away from direct sunlight.
Quantity: 100 ml in a Handy Glass Pump Bottle.