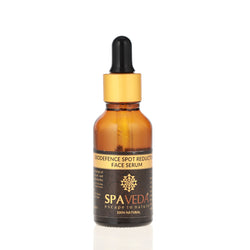 Spaveda Plantscriptions
Bio-defence Face Serum
Target the first signs of ageing with this powerful serum. The silky smooth formula delivers a highly concentrated, active dose of vitamins and antioxidants. This formula is infused with an invigorating blend of Kukui Nut, Jojoba and Rosehip oil that penetrate the deepest layers of your skin to repair damage and help in maintaining radiant, healthy and younger-looking complexion.    
Benefits
Diminishes age spots
Promotes cellular repair.
Repairs Sun damaged skin
Minimizes the appearance of scars.
Promotes Skin Suppleness
100%  Natural Face Serum
Preservative Free
Recommended Skin Types: Combination and Oily Skin.
Directions: Apply 3-4  drops of serum on a clean and damp skin avoiding the eye area.  Leave on. Can be mixed with the Calendula gel for a hydration boost and plumper skin.
Note: Always apply the serum on your wet skin.
Ingredients : Kukui nut oil, Organic argan oil, Beta Carotene oil, frankincence oil, blend of essential oils
Caution:  Keep out of reach of children and pets. If you are pregnant, consult your physician. Avoid contact with the eyes, and also the inner parts of the ears.Storage: To preserve the quality and integrity of the oil, store the bottle in a cool dark place away from direct sunlight.
Quantity: 30 ml in a Glass Dropper Bottle.