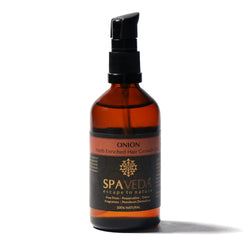 Spaveda Plantscriptions
Onion Hair Oil Enriched with a blend of botanical oils and extracts for long, lustrous & shiny hair.
Sulfur rich and antioxidant properties of onion are known to protect the hair from bacteria and free radical damage. A healthful blend of scalp friendly oils of Argan, and Jojoba in this formulation, deeply nourish the scalp. A potent synergy of essential oils nourish the hair follicle, working tirelessly to generate healthy shiny and soft hair.
Benefits 
Boosts Hair Luster  
Nourishes & Conditions Dry Scalp
Strong Hair Follicles 
Strengthens Hair Roots
Supports Natural Hair colour
Ingredients: Simmondsia Chinensis, Seed Oil, Caprylic/Capric Triglyceride, Argania Spinosa Kernel Oil, Allium Cepa Bulb Oil, Olea Europaea Fruit Oil, Tocopheryl Acetate, Melaleuca Alternifolia Leaf Oil, Eucalyptus Globulus, Rosmarinus Officinalis, Daucus Carota Sativa, Vetiveria Zizanoides, Root Oil.
Directions : Apply with fingertips directly onto the scalp, in hair partings. Massage gently in small circular movements. Then use a little extra on hair length if necessary. Keep on hair as long as desired, from 20 minutes to overnight. Shampoo off. Use once a week or before every shampoo.
Hair Types : Spaveda onion hair oil can be used for textured, curly, or straight; thick, coarse, damaged or chemically treated hair or natural.
Storage : To preserve the quality and integrity of the oil, store the bottle in a cool dark place away from direct sunlight.
Quantity: 100 ml in a Handy Glass Pump Bottle.