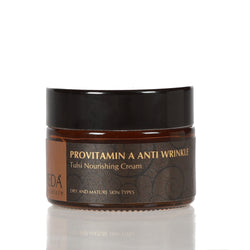 Spaveda Plantscriptions
Provitam A - Tulsi Nourishing Cream
This luxurious and intensely moisturizing cream has a nourishing and energising action on your skin. This potent, daily-use formula, enriched with the botanical herbs of Licorice, Ashwagandha, Aloe vera and green tea, delivers soothing moisturisation leaving the skin feeling nurtured, nourished and healthy.
Benefits
Reduce the appearance of fine lines
Softens and soothes your skin
Increase skin Elasticity
Nourish Peeling and Flaky skin while you sleep
Stimulate proteins that increase epidermal thickness
Free from parabens, artificial colour, artificial fragrance, petroleum derivatives.
Recommended Skin Types: Mature, dry and dull skin textures.
Usage tip: Apply on damp skin after cleansing and toning. Dab onto face, neck and chest. Gently massage into the skin. Use at night.
Ingredients: Aqua, Bees Wax, Emulsifying Wax, Almond Oil, Olive Oil, Wheat Germ Oil, Rose Water. Extracts of Amla (Emblica Officinalis), Licorice (Glycyrrhiza Glabra), Ashwagandha (Withania Somnifera), Sandalwood (Santalum Album), Aloe Vera (Aloe Barbadensis), Green Tea (Camellia Sinensis). Vitamin E oil, Shea Butter (Butyrospermum Parki ). Phenoxyethanol. Essential Oils of Tulsi and Sandalwood. 
Storage: To preserve the quality and integrity of the oil, store the bottle in a cool dark place away from direct sunlight.
Caution:  Patch test on the inner elbow before using. Discontinue if irritation occurs. Avoid contact with the eyes, and also the inner parts of the ears.
Quantity: 45 gms in an amber glass jar.