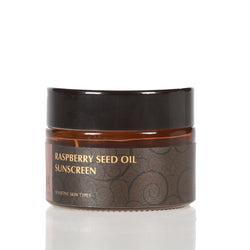 Spaveda Plantscriptions
Rasberry seed Sunscreen
A light facial sunscreen that prevents sunburns and premature ageing by blocking UVA/UVB rays with SPF 15 without leaving a white cast. This hydrating sunscreen melts into your skin and instantly brightens your complexion. Aloe and green tea extracts soothe and calm inflamed skin. The unique anti-pollution formula also shields your skin from environmental stressors, leaving your skin bright, shine-free and well-protected all day long. Unlike your typical sunscreen, this sunscreen has a light pink to peach undertone, meaning that it doubles as a brightening makeup base! Free of various possible skin irritants, like mineral oils, this sunscreen is suitable for all skin types especially dry and sensitive skin.
Benefits
Uses ingredients like Raspberry seed oil known to have natural SPF 50.

Protects against environmental pollution.
Free from Parabens, artificial Colour, artificial fragrance, petroleum derivatives.
Skin Types:  Normal to matures skin textures,
Usage Tips & Tricks: 
Apply a thin even layer of the cream on a clean damp skin, Leave it on over your face for a minute to let the cream soak in. Wear it under your make up.
Use  instead of your moisturiser on the wet and damp skin to create a smooth and homogenous layer on the skin that hides imperfections 
Ingredients: Aqua, Emulsifying Wax, Stearic Acid, Calamine, Zinc Oxide, Sesame Oil, Wheatgerm Oil, Rasberry seed oil, Extracts of Sandalwood (Santalum Album ), Greem Tea (Camellia Sinensis)
Storage: To preserve the quality and integrity of the oil, store the bottle in a cool dark place away from direct sunlight.
Caution:  Patch test on the inner elbow before using. Discontinue if irritation occurs. Avoid contact with the eyes, and also the inner parts of the ears.
Quantity: 45 gms in an amber glass jar.