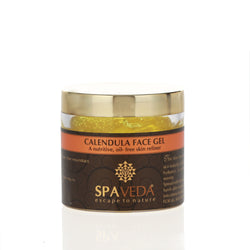 Spaveda Plantscriptions
Calendula Face Gel - Lightens scars & Blemishes
This skin firming gel aims to tone, hydrate, and tighten the skin, and support the restoring and regenerating process of your skin. Ideal for dealing with fine lines and wrinkles. This nutritive antioxidant-rich calendula gel nourishes and hydrates the skin around the eyes. This gel provides relief from the environmental oxidative stress. When used regularly, surface lines seem smoothed out and the eyes look younger and more attractive.  
Recommended skin types: Sensitive, dehydrated,sun damaged skin.           
Benefits                                                          
Lightens scars and blemishes
Prevents trans-epidermal water loss, protecting your skin's most delicate tissues
Provides intense and long-lasting moisturisation
Hydrates the skin around your eye
Discourages dark circles around the eye
Free from Parabens, artificial fragrances
         Usage tips & tricks
Apply a very little gel to clean

 

damp skin around the eyes from the outer corner of the eyes towards the nose. Use your ring finger to do this. Dab off excess gel with tissue very gently. Do not pull this delicate area. Use every time you wash the skin.
Apply to soothe baby diaper rash and insect bites.
Mix with Almond oil or your under eye cream to lighten dark circles and crows  feet.                 

                 
 Ingredients: Aqua, Carbomer. Extracts of Aloe Vera (Aloe Barbadensis), Calendula ( Calendula officinalis ), Glycerin, Phenoxyethanol.
Storage: To preserve the quality and integrity of the gel, store the bottle in a cool dark place away from direct sunlight.
Caution:  Patch test on the inner elbow before using. Discontinue if irritation occurs. Avoid contact with the eyes, and also the inner parts of the ears.
Quantity: 100 gms jar.