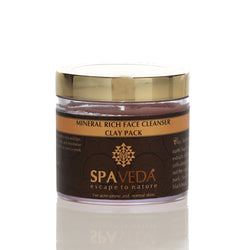 Spaveda Plantscriptions
Mineral Rich Clay Pack
A potent trio of natural clays, plant botanicals and aromatic pure plant oils. This detoxifying mask helps purify clogged pores and congested skin gently yet effectively.A  rich source of natural antioxidants, ascorbic acid, tocopherols and carotenoids, help eliminate dead skin cells while clays and plant oils nourish and protect. Excellent to use as Hydrating and Purifying Face Mask.

Benefits
Gentle, yet effective

 

cleanser

 

for overzealous sebum secretion
Removes daily impurities that cling to skin's surface
Gently dissolves congestion
Reinvigorates skin to soft, glowing supple dewiness
Removes superficial free radicals
Usage tips & tricks                                                                             
As a cleanser massage, a pea-sized dollop into warm, damp skin, making circular motions with your fingertips to release makeup and debris before rinsing clear.
As a mask apply liberally on wet skin. Allow penetrating for 5-7 minutes as 
Ingredients: Aqua, Fullers Earth, Calamine, Kaolin, Zinc Oxide, Sandalwood (Santalum Album ), Light Magnesium Carbonate, Rose Water, Xanthan Gum, Phenoxyethanol, Vitamin E Oil. Essential oils of Cedarwood and Vetiver.
Storage: Store in a cool dry place
Caution: Avoid contact with the eyes and lip area
Quantity: 100gms in an airtight jar