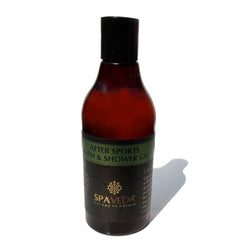 Spaveda Plantscriptions
Body Wash for Men & Women, Non-Toxic Liquid Soap, Natural Foaming Cleanser Free of Parabens & Phthalates, Suitable for Sensitive Skin
A refreshing Bath and Shower Experience with plant-based formula which deeply nourishes and moisturizes skin while washing away impurities. This moisturising Sulphate free and Paraben-free cleanser removes excess oil and impurities. The product is fortified with Aloe Vera that is known for its gentle cleansing and superior moisturizing. 
Directions : Use a little gel with a wash cloth, sponge or hands to clean skin. Shower off or wash off.     
Ingredients: Sodium Cocoamphoacetate and Lauryl Glucoside, Sodium Cocoyl Glutamate, Sodium Lauryl Glucose Carboxylate,  Decyl Glucoside Aloe barbadenis leaf extract,  Geranium oil, Patchouli oil, Clary Sage, Lemon oil, Eucalyptus oil, Spearmint oil.
Skin Types : Suitable for Sensitive Skin
Quantity: 300ML in amber bottle.