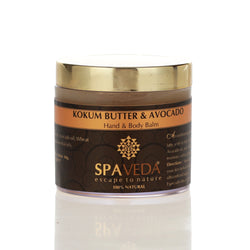 Spaveda Plantscriptions
Kokum butter & Avocado Pregnancy stretch mark prevention body balm
Still wondering whats good for stretch marks?,this stretch mark balm helps prevent stretch marks even before they appear.Simply allow this firming body  balm to  melt into your stretching skin when pregnant, and enjoy its hydrating, healing and protective effects.Rich and buttery, this all-natural indulgent body balm keeps the skin looking and feeling lush all year round. This multi-purpose skin balm has kokum butter which is known for its intensive healing properties. This all natural body balm is strong enough for the roughest spots on your body and yet gentle enough for use under the eyes.
Recommended Skin Types: Dry and mature.
Benefits 
Prevents pregnancy stretch marks by providing lubrication and  maintaining skin elasticity. For effective results start using before the baby bump appears and through your pregnancy. 
Balms are the best treatment for stretch marks, they are  more effective in protecting and healing the surface layers of the skin where the stretch marks appear, therefor they are highly recommended for use in lieu of a stretch mark removal cream, anti cellulite cream
Soothes dry, itchy, sun burnt skin
Heals rough & cracked feet, yoga elbows
Absorbs quickly
Balms incorporate pregnancy tummy oils and are more effective than mothers belly stretch mark creams
Free from Petroleum Derivatives, Parabens, Artificial Colour, Artificial Fragrance, Mineral oil, Phthalates, Dyes
100% natural and incorporates pregnancy tummy oils
Safe even for Children
 Usage Tips & Tricks
Apply on the clean damp and warm skin after your bath
Dab on your damp stretching skin of stomach if pregnant and massage in upward circular strokes. Use liberally on stretch mark prone areas of stomach, thighs, busts and hips
Massage into the elbows/ cracked heels, chapped skin and cuticles
 Ingredients: Kokum butter, Avocado oil,  Almond oil, Jojoba oil, Tocopherol (Vitamin E) Blend of essential oils Clary sage, Lavender, Geranium and Jasmine.
 Storage: To preserve the quality and integrity of the balm,  store the jar in a cool dark place away from direct sunlight.
Caution:  Patch test on the inner elbow before using. Discontinue if irritation occurs.
Quantity: 100 gms in an airtight jar.