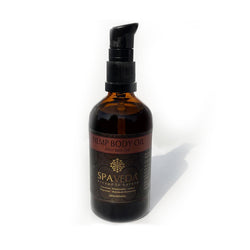 Spaveda Plantscriptions
Lightweight Body Oil for All Skin Types - Conditioning Body Nourishing with Natural Hemp Seed Oil
Nourishes, revitalizes, softens, Improves skin elasticity a versatile, nutrient-rich and deep-penetrating moisturizing oil with natural aroma. The cold pressed plant oils blend absorbs quickly into the skin to brighten and smooth it. This soothing body oil relaxes and nourishes both mind & body. Skin softening plant seed oils of Hemp oil, almond, and jojoba are infused with pure Essential Oils of Geranium, Chamomile, Patchouli and Marjoram help you unwind and preserve the skin's elasticity. Highly hydrating and absorb quickly, excellent for relaxing massage while keeping skin soft and moisturized.
 Benefits:  
 Absorbs quickly, locking in the moisture to achieve soft, smooth skin.
 Nourishment for dry skin and glides on easily to help maintain skin's essential moisture.
Stress relaxing and sore muscle massage oil
Ingredients: Hemp oil, Almond oil, Wheat germ oil, Jojoba oil, Vitamin E oil, Geranium, Chamomile, Patchouli and Marjoram.
Directions : Apply all over your body for smooth, naturally nourished skin. For best results, apply immediately after shower to lock in moisture. 
Skin Types : All Skin Types
Quantity: 100 Ml in amber glass pump bottle.