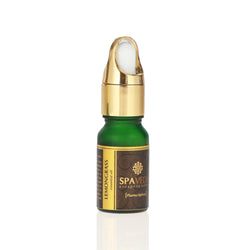 Spaveda Plantscriptions
Lemongrass Essential Oil
Spaveda Premium Essential Oils are 100% Pure & Natural – No Additives, Alcohol-Free, No Added-Fragrance and Not Diluted. 
Premium quality essential oil lemongrass; extracted by steam distillation from the fresh or partly dried leaves; pure & natural, therapeutic grade. 
Lemongrass oil has a lemony, sweet smell and watery viscosity which makes it a great lemongrass essential oil for diffuser for aromatherapy and many DIY skincare, hair care, and household recipes.
Benefits:
CLEANSE, PURIFY & BRIGHTEN- Steam-distilled from blades of lemongrass, Lemongrass Essential Oil has a clean, crisp citrus aroma similar to lemon with a fresh grassy notes. Diffuse to cleanse bad odors and uplift the energy in a room. Great for natural cleaning recipes.

AROMATIC- Can be used with an essential oil diffuser to provide therapeutic aromatic benefits or simply perfume your space. Air fresheners and plug-ins with the aromas of pure botanical extracts.

CAN BE APPLIED TOPICALLY- Safe for skin when properly diluted with a carrier oil or your favourite bath & body products. Great to use for DIY beauty recipes and therapeutic massage oils. Remember to test for sensitivities and allergies before using any new product.
Usage Tips:
 For use in massage, use 3-5 drops in a carrier oil, such as jojoba or coconut oil and massage well into skin.
In diffuser or humidifier, add 3-5 drops to water reservoir, then turn on mist.
 Add 3-5 drops to home care products for a fresh, herbal fragrance.
Carry the Essential Oil with you, uncap and inhale earthy, comforting scent.
Lemongrass essential oil blends well with basil, cedarwood, geranium, jasmine, lavender and tea tree oils.
Storage: To preserve the quality and integrity of the oil, store the bottle in a cool dark place away from direct sunlight.
Caution:  Keep out of reach of children and pets. If you are pregnant, consult your physician. Avoid contact with the eyes, and also the inner parts of the ears.
Quantity: 10 ml Amber Glass Bottle.