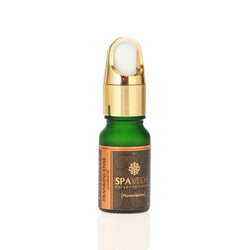 Spaveda Plantscriptions
Frankincense Essential Oil
Spaveda Premium Essential Oils are 100% Pure & Natural – No Additives, Alcohol-Free, No Added-Fragrance and Not Diluted. Frankincense oil is nourishing and clarifying as an addition to daily skin care, the oil's warm, spicy, herbal aroma creates a relaxing yet uplifting atmosphere. Frankincense is a powerful natural restorer with a spicy, musky scent that works wonders for your skin and hair health.
 Aroma:  Warm Musky, balsamic aroma
PREMIUM THERAPEUTIC GRADE FRANKINCENSE OIL: - FRANKINCENSE Oil is obtained by steam distillation extraction of frankincense resin. It is 100% Pure & Natural, Authentic essential oil. Our FRANKINCENSE Oil is not tested on Animals. We care for you!
RELAXING AND PLEASANT AROMA : Frankincense Essential Oil is has a Piney, woody and earthy scent. The unique aroma of Frankincense is strong yet pleasantly invoking. It is widely used for Spirituality, Yoga and Meditation. The naturally stimulating aroma of Frankincense is highly used in cosmetics and perfumery as it blends well and creates a beautiful feeling. Add few drops to diffuser for a warm and piney ambience.
MULTIPLE BEAUTY CARE BENEFITS: Frankincense oil has multiple benefits such as aromatherapy, skin care & hair care. It can be added to your favourite hair oils and lotions to make your hair smooth and silky. Combine it with base oils known as carrier oils to apply on skin, hair and body & experience incredible benefits.
Usage And Tips: 
For Skin
Frankincense helps in skin regeneration, relaxing the skin, and softening facial lines.
It has natural antibacterial and antiseptic qualities that help fight acne and reduce blemishes.
This oil is also used in various anti-aging solutions3. It also reduces redness and produces and even tones skin.
Diffusion: Use three to four drops in the diffuser of your choice.
Topical use: Apply one to two drops to desired area. Dilute with a carrier oil to minimize any skin sensitivity. 
Storage: To preserve the quality and integrity of the oil, store the bottle in a cool dark place away from direct sunlight.
Caution:  Keep out of reach of children and pets. If you are pregnant, consult your physician. Avoid contact with the eyes, and also the inner parts of the ears.
Quantity: 10 ml Amber Glass Bottle.