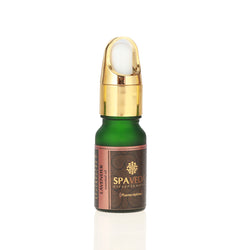 Spaveda Plantscriptions
Lavender Essential Oil
Best Quality Lavender Oil - This lavender Essential Oil is 100% natural, unadulterated and untainted just to keep the efficacy most intact. A purified product of fresh lavender. Non-Toxin, No Additives, No Preservatives, Unfiltered and Undiluted with no Fillers and No artificial ingredients added. Therapeutic Grade.

Aroma: Powdery, floral, light
Spaveda Essential Oils are 100% Pure & Natural – No Additives, Alcohol-Free, No Added-Fragrance and Not Diluted.

Multipurpose Essential Oil – Lavender essential oil is suitable for aromatherapy diffuser and have many other great uses and benefits.

Soothes occasional skin irritations.

Helps ease feelings of tension.

Usage tips & Tricks

Add a few drops of Lavender to pillows, bedding, or bottoms of feet at bedtime.
Keep a bottle of Lavender on hand to soothe occasional skin irritations.
Freshen your linen closet, mattress, car, or the air by combining Lavender with water in a spray bottle.
Storage: To preserve the quality and integrity of the oil, store the bottle in a cool dark place away from direct sunlight.
Caution:  Keep out of reach of children and pets. If you are pregnant, consult your physician. Avoid contact with the eyes, and also the inner parts of the ears.
Quantity: 10 ml Amber Glass  Bottle.