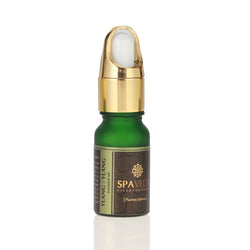 Spaveda Plantscriptions
Ylang Ylang Essential Oil for Diffuser, Hair, Bath | Use in Aromatherapy Diffuser
100% Pure and Natural, Steam distilled from naturally grown Ylang Ylang flowers. Has a Fruity and Floral Fragrance. -  No Additives, Alcohol-Free, No Added-Fragrance and Not Diluted.
Benefits:
Floral and Sweet - Ylang-Ylang essential oil exudes a scent that is soothing with hints of floral sweetness.

For Stress, Skin and Hair - Ylang Ylang oil helps calm stress, restore dull skin and improve hair growth.

Diffuse or Topical - Add a few drops of essential oils ylang ylang to diffusers, baths and skincare for a mental boost and a calming atmosphere.
Usage tips:

Put Ylang Ylang oil into an Epsom Salt bath for relaxation.
Refresh your skin with an aromatherapy steam facial using Ylang Ylang essential oil.
Put on your wrists for a sweet, floral perfume.
Add Ylang Ylang to Fractionated Coconut Oil for a deep hair conditioner.
Storage: To preserve the quality and integrity of the oil, store the bottle in a cool dark place away from direct sunlight.
Caution:  Keep out of reach of children and pets. If you are pregnant, consult your physician. Avoid contact with the eyes, and also the inner parts of the ears.
Quantity: 10 ml Amber Glass  Bottle.