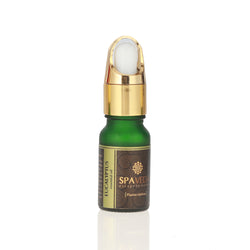 Spaveda Plantscriptions
Eucalyptus Essential Oil
Spaveda Premium Essential Oils are 100% Pure & Natural – No Additives, Alcohol-Free, No Added-Fragrance and Not Diluted. The main chemical components of Eucalyptus radiata are eucalyptol and alpha-terpineol, making it an ideal oil to promote feelings of clear breathing and open airways and for creating a soothing massage experience. Eucalyptus oil has purifying properties that can be beneficial for the skin and for cleansing surfaces and the air.   
Aroma:  Eucalyptus essential oil has a strong woody and sweet scent
Description

Eucalyptus oil is known for being cooling, invigorating, balancing and purifying.

Pure and natural, steam distilled eucalyptus essential oil; non-toxin, no additives, unfiltered and undiluted with no fillers.

Extracted from the leaves using a chemical-free, double distillation process to ensure the highest level of purity.
 Usage And Tips:
Combine Eucalyptus oil with

 lemongrass

 

and

 peppermint

 

oil in a spray bottle and use it to wipe down surfaces in your kitchen or bathroom.
Add one drop of Eucalyptus essential oil to moisturizer and apply to skin for revitalizing benefits.
While showering, place a few drops of Eucalyptus oil in the hands, place over nose, and inhale deeply to invigorate and promote vitality.

Diffusion: Use three to four drops in the diffuser of your choice.
Storage: To preserve the quality and integrity of the oil, store the bottle in a cool dark place away from direct sunlight.
Safety Warning: For external use only. Other than aromatherapy, dilute with a carrier oil. For topical use, rub a very small amount on the inside of your elbow area to test for any allergic reaction before use. Avoid contact with eyes, and also inner parts of the ears. keep out of the reach of children. If pregnant, consult with your health care provider before use.
Quantity: 10ml amber glass bottle