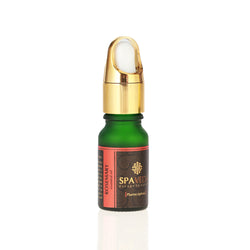 Spaveda Plantscriptions
100% Pure & Natural Rosemary Essential Oil


Benefits:
Essential Oils for Hair - Cleansing essential oils like rosemary can help improve your hair care by working as a dry scalp oil exfoliator scalp cleanser and hair shine serum for flawless looking hair

Pure Essential Oils - Rosemary is one of the top essential oils for diffusers for home because aromatherapy essential oils for diffusers and other uses help enhance wellness wherever and whenever

Rosemary Oil for Skin - Rosemary is one of our favourite essential oils for skin use as a natural cleansing oil with antioxidants great for beauty DIYs best paired with a one of our carrier oils

Diffuser Oil - Breathe in the wonderful aroma of natural rosemary aromatherapy oil as the diffuser essential oil fills the air with a clean scent bringing a whole new feel to any room or setting.
Usage And Tips:
How to use for hair care
Add 1ml rosemary essential oil to 100ml  cold-pressed extra virgin coconut oil to form a blend. Keep the bottle ready for use and shake well before application. Apply the blend evenly on hair and scalp. Massage mildly and let the blend stay for a minimum of 2 hours before washing off. For best results, leave it overnight and wrap your hair in a hot towel for 30 minutes before washing.
Diffusion: Use three to four drops in the diffuser of your choice.

Topical use: Apply one to two drops to desired area. Dilute with a carrier oil to minimize any skin sensitivity. See additional cautions below
Storage: To preserve the quality and integrity of the oil, store the bottle in a cool dark place away from direct sunlight.
Caution:  Keep out of reach of children and pets. If you are pregnant, consult your physician. Avoid contact with the eyes, and also the inner parts of the ears.
Quantity: 10 ml Amber Glass Bottle.